ACA 2018
Annual Catholic Appeal 2018
Each year at this time, we are called to prayerfully consider our response as faithful stewards of the gifts which God has generously given us and participate in the Annual Catholic Appeal. This is an opportunity for all of us to support the essential ministries and shared services of the Archdiocese.
More than 60 ministries and services are supported by your contribution to the Annual Catholic Appeal. Many of these directly benefit our parish faith communities and others provide needed assistance to people around us.
Have you ever wanted to see the hands, faces, and places of the Annual Catholic Appeal in Western Washington? Your Church supports many ministries and services throughout the Archdiocese – made possible by YOU! Watch the video now
St. Matthew has a strong history of meeting our goal and having excellent participation. For six years in a row, our parish has received recognition for having over 50% participation – last year we had 51%!
Our Parish Goal is $80,008
If you gave last year, please consider increasing your gift by 5% this year. If you did not give last year, or are not sure what to give, would you consider a gift of $365 ($1 per day) ?
There are response card/envelopes in the pews at church and or go online:
https://www.seattlearchdiocese.org/Stewardship/ACA/Donate.aspx
to make a secure online pledge or gift.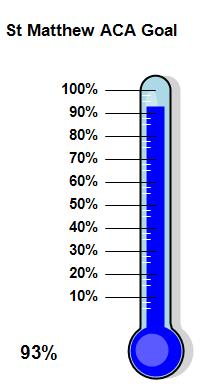 THANK YOU FOR YOUR SUPPORT!